Fixed Income is Resilient
January 2023
To put it plainly, 2022 has been exasperating for investors across all asset classes. Perhaps the most difficult result to deal with has been the performance of bonds which are coming off of their worst year in over half a century. Fixed income plays an especially important role in the markets. Bonds provide an income stream to the individual investor, allowing them to meet future obligations such as tuition or day to day expenses. Bonds, especially Treasuries, generally have a low correlation with other asset classes and their addition to a balanced portfolio brings diversification benefits; mitigating the impact of market fluctuations on an investor's portfolio.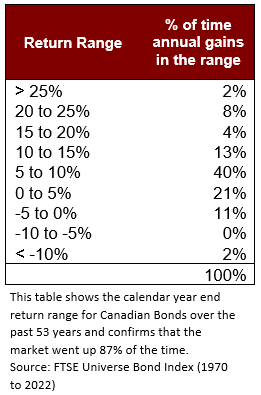 Inflation accelerated to highs not seen since the early 1980's and its impact on fixed income securities has been apparent. During more normalized inflationary periods, adding inflation-indexed bonds to a diversified portfolio of bonds and equities would typically result in superior risk-adjusted real returns, but when inflation rises to unsustainable levels as we have witnessed recently, even inflation-linked products are at risk of decline. When inflation is too high, it reduces the purchasing power of the money that is used to pay the bond's interest and principal. This makes bonds less attractive to investors as they may not be able to earn as much in real terms from their investment.
Fortunately, inflation is slowing. In November 2022 Canada's annual inflation rate was 6.8%, down from its peak of 8.1% in June 2022; the slowest increase in prices since April 2022. Simply put, this is a bullish signal for investors. The unfavourable combination of high inflation and interest rate hikes by the Bank of Canada (BOC) may be reaching its conclusion for this market cycle. As inflation continues to slow, it gives the BOC more room to lower rates in order to stimulate growth which in turn should drive the prices of bonds higher.
When we look at the performance of bonds over the last 53 years, they have generated positive returns 87% of the time and up until 2021 there were zero cases of consecutive years with negative returns. The average decline during this period was -4.1% (or -2.8% if we only include the 6 negative declines prior to 2022) and the average return in the years following the decline was 7.1%. Even more interesting is the fact that in the second year after an annual decline the market continued to generate impressive gains which averaged 10.3% a year. This is even more impressive compared to how equities faired in similar circumstances (i.e. in the second year following a decline, equities returned on average 9.8% a year as illustrated in the November 2022 Monthly Insight article). Prior to 2022, the next worst year for bonds over the past five decades was in 1994, when bonds returned -4.3% only to surge for the following two calendar years with gains of 20.7% and 12.3%.
Investors should always remember that the market has a trick up its sleeve and finds its way to surprise. Although bonds look poised to rebound strongly in the coming years, inflation and interest rates can be "sticky" because they can be slow to adjust to changing economic conditions. This is due to a variety of factors, including the time it takes for market participants to adjust their expectations, the time it takes for changes in monetary policy to affect the economy, and the presence of rigidities or frictions in the economy that make it difficult for prices to adjust quickly.

As history has shown us repeatedly, rather than trying to time the market, the most successful investors stay invested in a well diversified portfolio. This allows them to take advantage of the long term growth potential of the market rather than trying to make year to year predictions.
MARKET DATA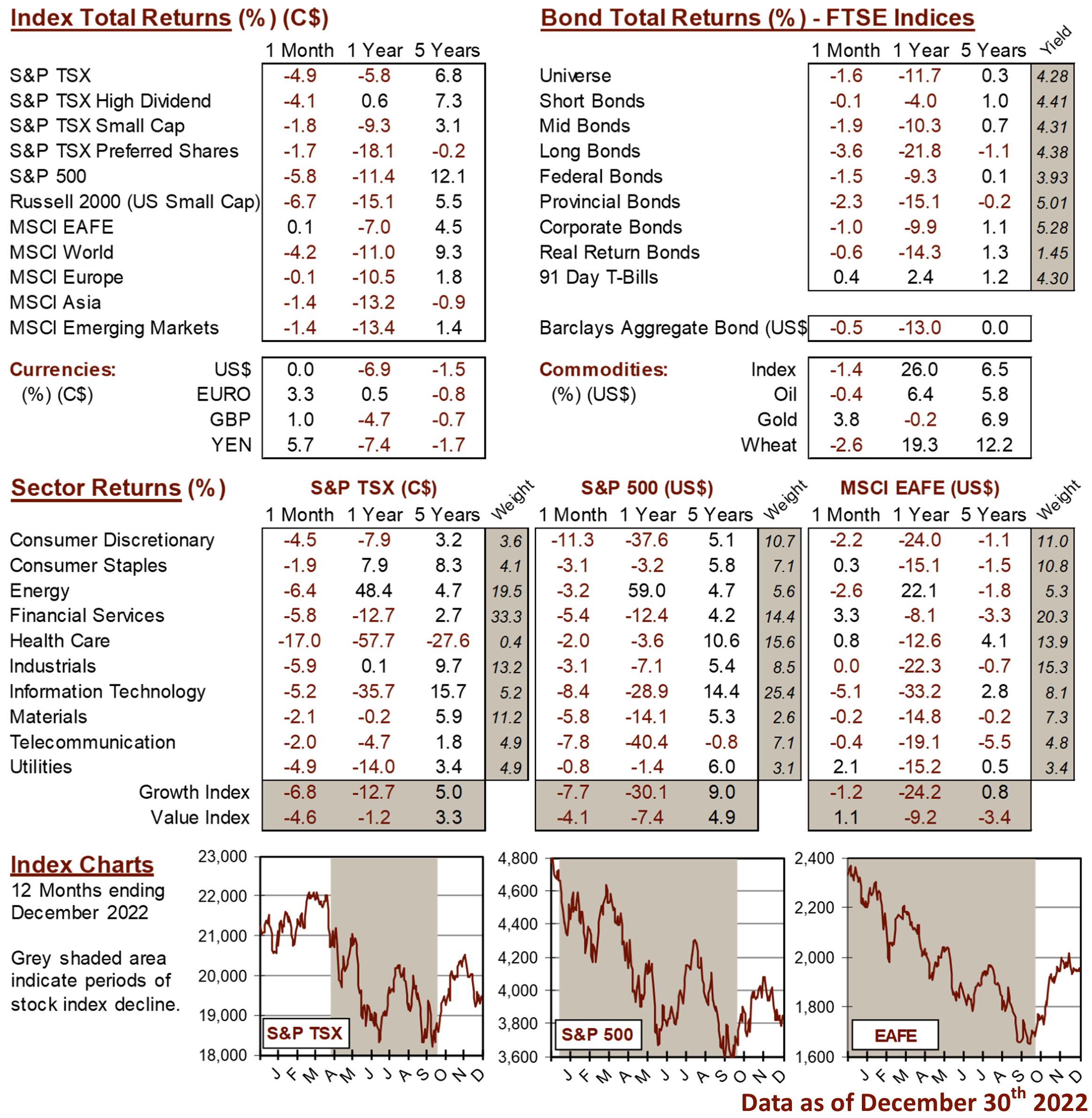 This report may contain forward looking statements. Forward looking statements are not guarantees of future performance as actual events and results could differ materially from those expressed or implied. The information in this publication does not constitute investment advice by Provisus Wealth Management Limited and is provided for informational purposes only and therefore is not an offer to buy or sell securities. Past performance may not be indicative of future results. While every effort has been made to ensure the correctness of the numbers and data presented, Provisus Wealth Management does not warrant the accuracy of the data in this publication. This publication is for informational purposes only.